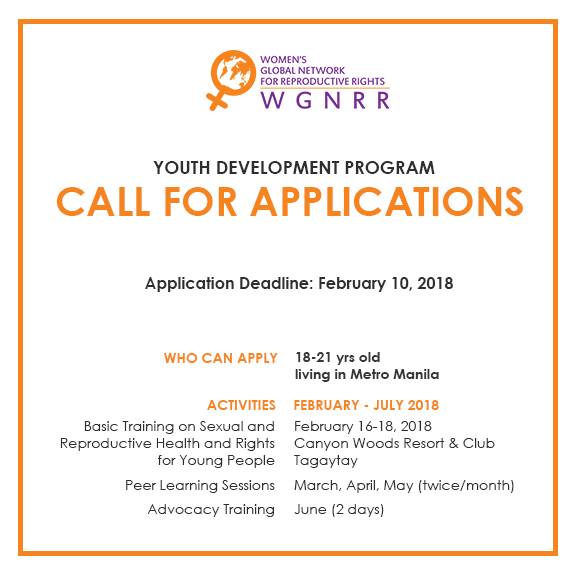 09 Feb

Call for Applications (Youth Development Program)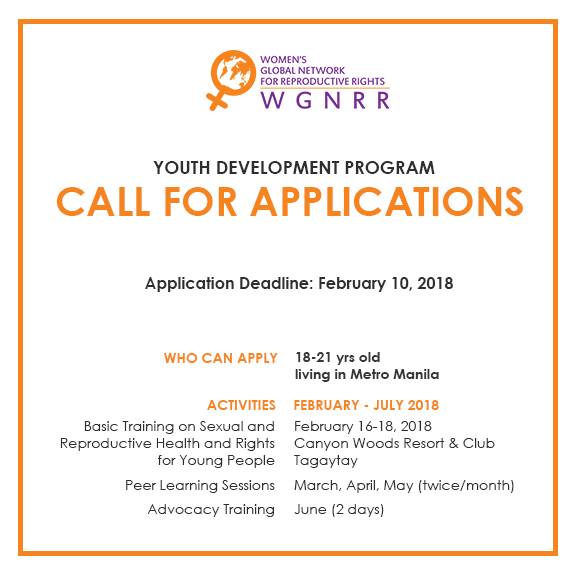 Are you passionate about learning and working towards the realization of young people's sexual and reproductive health and rights (SRHR)?Are you 18-21 years old, living in Metro Manila? If yes, this is your chance to be part of WGNRR's six (6) month Youth Development Program! Apply now!
CALL FOR APPLICATIONS
Women's Global Network for Reproductive Rights (WGNRR) invite applications from young people, ages 18-21 years old living in Metro Manila to join the pilot testing of its Youth Development Program. The 6-month program is aimed at developing young people's knowledge, skills and attitude on sexual and reproductive health and rights (SRHR).
The Program will start with a three-day Training on Sexual and Reproductive Health and Rights (SRHR) for Young People this coming February 16-18, 2018 (Friday, Saturday & Sunday) in Canyon Woods Resort and Club, Tagaytay. Followed by Peer Learning Activities twice a month in March, April and May; and a two-day Advocacy Training on June 2018.
What are the benefits of being part of WGNRR Youth Development Program?
You will learn more about SRHR including safe and legal abortion from a feminist and human rights perspective
You will be provided with opportunities to develop your skills and strengthen your capacity
Interact with other young people for enriching exchanges and sharing of experiences
Ongoing mentoring by WGNRR team beyond training and learning sessions
Who can apply?
Young people who are…
ages 18-21 years old, living in Metro Manila
interested in sexual and reproductive health and rights including safe abortion
preferably part of youth organization / group / network
able to finish the 6-month program
How to apply?
Fill out the Application Form and email to pinsan.sj@gmail.com or send to WGNRR's office, #3 Marunong Street, Brgy. Central, Quezon City, on or before February 8, 2018 (Feb 10 – extended deadline).
You will be notified by February 12, 2018, if you are accepted.
You may download the Application Form on this link: http://bit.ly/BTSRHRappform
WGNRR will cover food, accommodation, and travel expenses of the selected participants.
Last Date of Applications: February 8, 2018 (Feb 10 – extended deadline)
For more information, email/text: pinsan.sj@gmail.com / 0949-9935239